Your questions answered by Dr Jonathan Young
Check out answers to frequently asked questions about orthopedic surgery from Dr Jonathan Young, Orthopaedic specialist in Newcastle and Lake Macquarie.
What does an Orthopaedic Surgeon do?
Orthopaedic surgeons are experts in the diagnosis and surgical or non-surgical treatment of injuries and disorders of the musculoskeletal system, including the bones, joints, tendons, muscles and ligaments.
What are Dr Young's opening hours?
Dr Young's opening hours are Monday to Thursday, 9am – 5pm, Fridays 9am – 4pm.
What areas/locations does Dr Young's clinic service?
Based in Warners Bay, Dr Young's clinic is the most experienced and accessible orthopaedic treatment centre outside of the major metropolitan Sydney area. We welcome treatment enquiries from prospective patients across the wider Hunter and Northern NSW regions such as the Mid North Coast, Orange, Tamworth, New England Tablelands, and beyond. There is free flat parking on site, looking across the calm waters of Lake Macquarie.
To see Dr Young you will require a referral. Please talk to your GP in order to arrange one.
What should I expect in my first consultation?
When you meet Dr Young, you will be asked a few questions before an examination of the problem area. Together, patient and doctor will plan a solution that takes into consideration your aspirations and expectations. See here for more information. Whilst in the waiting room prior to your consultation, you may be asked to fill out a questionnaire about your condition for potential research projects Dr Young is involved with.
What is Dr Young's approach to treatment?
Dr Young's approach to treatment emphasises care and support, quality and experience, and avoiding surgery wherever possible to maintain the best interests and health of his patients. He will discuss the cause of your problem, together with the possible treatments (taking into account your situation and your other health issues) so that you can be active in the decision making for your care.
What is Dr Young's fee schedule?
Dr Young maintains a high value level of service at approachable prices, aiming to provide the very best care and results while keeping fees affordable.
For many reasons some patients decide to self fund their surgery in a private hospital. Dr Young and his staff will organize quotes for private hospital treatment as required. Again fees are kept affordable.
Are there rebates that apply to treatment with Dr Young?
Medicare rebates are available, as well as pensioner discounts. For more information, please call our office on 02 4958 7777.
What hospital should I elect if surgery is required?
Dr Young operates at Lingard Private Hospital and at Lake Macquarie Private Hospital, where surgery for privately insured patients and self-insured patients is performed.
He is also the Director of Orthopaedics at John Hunter Hospital and Belmont District Hospital, where clinics are provided and surgery performed for uninsured patients (at no cost to the patient).
There is a substantial waiting time for these public hospital services however Dr Young can see uninsured patients for urgent problems in his rooms (a normal consultation fee is levied), however the booking process for public hospital operations is governed by public hospital clinic availability, and patients do not obtain earlier public hospital operations through rooms consultation.
Does Dr Young perform Anterior Minimally Invasive Hip Surgery?
Dr Young has performed over 600 hip replacements through the Anterior Minimally Invasive Hip Surgery approach, which is offered by very few other surgeons in the region. The surgery takes about one hour with patients up and walking either the same day or early the next. Most will stay in the hospital for 1 to 3 days. When patients leave the hospital they can get into and out of bed by themselves, and ascend and descend stairs with the aid of a stick. View here for more information about the Anterior Approach and Dr Young's treatments.
Does Dr Young utilise robotics or computer assistance in his treatment?
Dr Young is a recognised expert in Computer Assisted Knee Replacement.
His techniques allow a measured accuracy of the placement of the knee prosthesis to within 0.5mm and 0.5 degrees. He is familiar with numerous types of knee replacements and will advise you on the best knee for your requirements.
Dr Young has studied the current range of Robots and Robotic devices on the market and in common use, and presented on this topic at international conferences.
He has found that, at this current stage, they remain too clumsy to deliver on their purported advantages. However, he has been part of a consultative team developing the next generation of smart tools and robots, and looks forward to their introduction.
Where can I find more information by Dr Young on treatments or ways to avoid injury?
For more information on treatments and ways to avoid injury, visit Dr Young's Treatments page and browse his blog, which features articles of injury avoidance and pain mitigation.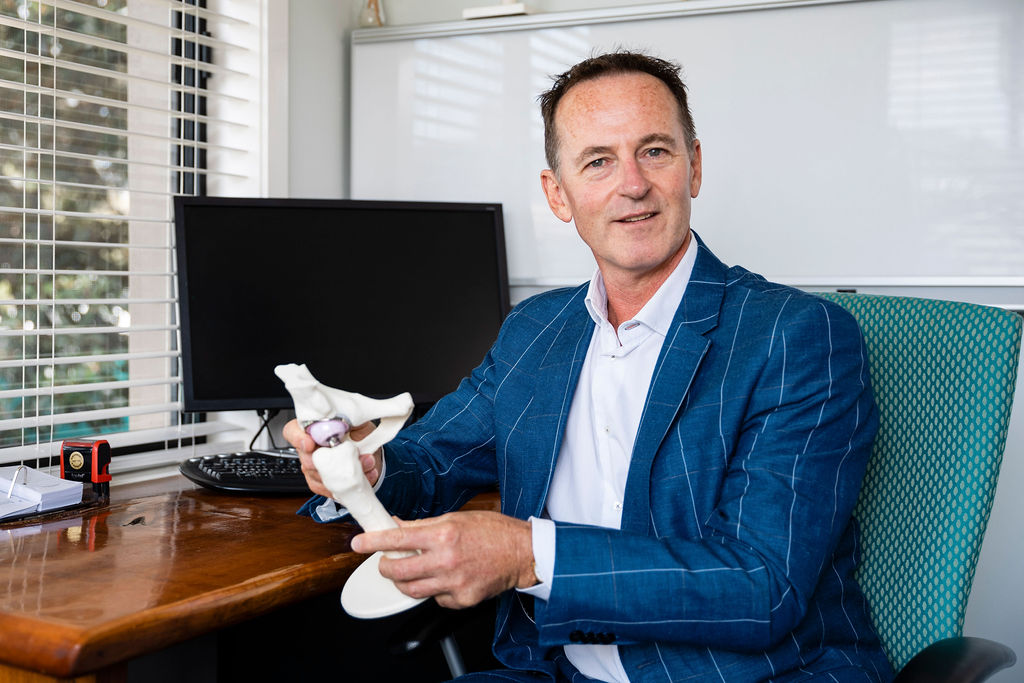 Book your appointment
Seeking treatment or need expert assessment of a new or existing orthopaedic condition? Arrange a consultation with Dr Jonathan Young today. Call 02 4958 7777 or make an enquiry below.